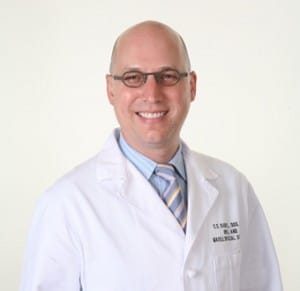 Christopher S. Daniel, DDS, MD, FACS
Born and raised in San Antonio, Texas, Dr. Daniel earned his bachelor's degree from UC Davis, his dental degree from the University of Texas, San Antonio, and his medical degree from the University of Texas, Houston. After completing his internship and residency in Texas and marrying a California girl, he settled in Sonoma County and joined Santa Rosa & Rohnert Park Oral Surgery in 2008.
While Dr. Daniel heads our Rohnert Park office, he treats patients in both locations. An expert in the industry, Dr. Daniel has successfully published and presented research on topics related to oral and maxillofacial surgery. He is committed to community service and volunteers with Hanna Boys Center and CDA Cares to provide free dental care to people in need.
Dr. Daniel is very much at home in beautiful California, where he hikes, mountain bikes, snow skis and plays guitar.
Membership
American Association of Oral and Maxillofacial Surgeons (AAOMS)

California Association of Oral and Maxillofacial Surgeons (CALAOMS)

American Dental Association (ADA)

California Dental Association (CDA)

American College of Surgeons (ACS)

Redwood Empire Dental Society (REDS)

International Team for Implantology (ITI)

Academy of Osseointegration (AO)

Edward C. Hinds Academy

Fellow, American Dental Society of Anesthesiology
Diplomate, National Dental Board of Anesthesiology
Education/Certification
Advance Cardiac Life Support (ACLS) (year; keep in backward chronological order)

Diplomate: American Board of Oral and Maxillofacial Surgery (year)

Fellow: American College of Surgeons (year)

Oral and Maxillofacial Surgery Residency: University of Texas, Houston (year–2008)

Doctor of Medicine: University of Texas, Houston (2006)

Doctor of Dental Surgery: University of Texas, San Antonio (2002)

Bachelor of Arts, [Discipline]: University of California, Davis (1994)
Dr. Daniel's Reviews
This is the second time Dr. Daniel has done extractions and implants for me. I appreciate when we talk that he pays close attention. He never makes me feel as though I ask too many questions.
I had two extractions this time, one implant, and one site bone-grafted, which after healing, will receive an implant as well. I had virtually no swelling and Advil 4x a day kept me pain-free.
He's my go-to oral surgeon, and as long as he's available, I'm his loyal patient.
- Skye B.
He took out my sons bottom 2 wisdom teeth. Although my son had some problems afterwards, including an infection, Dr Daniel and every single member of the staff was so helpful, knowledgeable and kind. Dr. Daniel made himself totally accessible to me when my son was having swelling and pain over the weekend. I should say my sons case was not normal in that he had a reaction to the pain meds. I feel so comfortable and have so much confidence in them, I am going myself next week for an extraction.
- Kelly W.
The Best The Best The Best!!
Completely painless dentistry.
I was very very surprised.. and very happy!!
- Stephen S.
Dr Daniels was very personable and helped me understand better solutions , did not rush me and made me feel comfortable. The office was thorough, quick and friendly!
- Cristina A.
Got my wisdom teeth pulled about a week ago, the pre op and operation went well. Staff is really nice and made the experience pleasant.
- David N.
I can't say enough about Dr Daniel and his staff at Santa Rosa & Rohnert Park Oral Surgery!
Never in a million years did I expect to be treated like I had been a patient of theirs for life! Most of the time when you are out of town working/vacationing and have an emergency of any kind you aren't top priority. Well...I have to say that I was treated with the utmost respect, and the care and concern they showed for the dental issue I was experiencing went above and beyond my expectations.
Once again I am super impressed with the oral surgeon and his staff here! My husband couldn't pick me up right away after surgery due to his work, and the staff took turns going to lunch today so someone could be with me in the office since I couldn't be left alone. They did everything they could to make me comfortable.
It is after hours and Dr Daniel just called to see how I was doing after my surgery today...Honestly that was over above and beyond the expectations I had!
Thank You Again!!!
Jamie
- Jamie M.
The news that one needs a cracked tooth pulled and the only replacement has to be an dental implant is never well received. I did my research and found a Board certified surgeon who could do both. I have to say the prospect of having a surgeon place metal in your jaw made me fearful and worried. My pre-appointment with Dr. Daniel and his assistant was really great--they took their time, answered all my questions, carefully explained the procedure and helped me to choose twilight anesthesia. On the day of the surgery Dr. Daniel and his super professional medical team helped get me set up and administered the anesthesia without a hitch. In what seemed like five minutes both the extraction and implant was over. I took minimal pain meds and had zero swelling and zero pain. I could not have been more pleased with the outcome. This is a great doctor with an equally great support staff both in the dental chair and in the clerical office as well.
- Chris V.
I was really nervous about a bump on the roof of my mouth but I saw Dr. Daniel and the way he handled my visit was amazing. Thankfully it turned out to be nothing - phew! Since that time Dr. Daniel has seen my wife and my daughter and each time the experience has been 5 Stars. Thank you!
- Jock P.