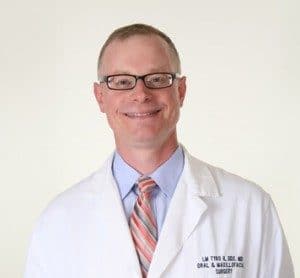 Leonard M. Tyko II, DDS, MD, FACS
Dr. Tyko earned his bachelor's degree from UC Riverside, his dental degree from UCLA, and his medical degree from the University of Texas, Houston. In 2000, after completing his general surgery internship and oral and maxillofacial surgery residency, Dr. Tyko returned to his home state to join Santa Rosa & Rohnert Park Oral Surgery. In addition, he serves as Chief of Dentistry and on the facial trauma team at our neighboring Santa Rosa Memorial Hospital.
Dr. Tyko embodies the spirit of service that is at the heart our practice. He served as President of the California Association of Oral and Maxillofacial Surgeons in 2016. He advocates for quality oral health legislation and volunteers with California CareForce to provide free medical, dental and vision care to people in need at mobile health clinics across the state. He lectures regularly at Santa Rosa JC and Sonoma State, hosts industry seminars and offers continuing education courses to medical and dental professionals throughout the region.
Outside the office, Dr. Tyko enjoys being with his four children, coaching Little League, mountain biking and mountaineering—he's successfully summited Mount Shasta, Mount Kilimanjaro in Africa and Mount Blanc in France!
Membership:
American Association of Oral and Maxillofacial Surgeons (AAOMS)

California Association of Oral and Maxillofacial Surgeons (CALAOMS)

American Dental Association (ADA)

California Dental Association (CDA)

American College of Surgeons (ACS)

Redwood Empire Dental Society (REDS)
Education/Certification:
Diplomate: American Board of Oral and Maxillofacial Surgery (2002)

Fellow: American College of Surgeons 

Oral and Maxillofacial Surgery Residency: University of Texas, Houston (1994–2000)

Doctor of Medicine: University of Texas, Houston (1998)

Doctor of Dental Surgery: University of California, Los Angeles (1994)

Bachelor of Science, Biology: University of California, Riverside (1990)
Dr. Tyko's Reviews
Dr. Leonard Tyko and his Team are by far the best in Santa Rosa. Not only do they make you feel like family they go the extra mile in the recover process i highly recommend this place to anyone looking!!!!!
- Marcus F.
Dr. Tyko has performed 3 tooth extractions for my 6 year old. He is a remakably professional and caring physician who my son finds very interesting. Dr. Tyko is very good with kids and understands what parents are thinking when they hear that a tooth has to be pulled. Overall, his bedside manner is great and I couldn't expect anything more from a physician, given the circumstances he works with. The fact is, no one wants to have oral surgery, but Dr. Tyko does everything he can to make the experience positive.
- Adam K.
My son had to go in for an extraction. We were able to go for a consultation, and book the procedure shortly after. The staff was extremely friendly and Dr. Tyko was amazing! He explained what to expect, and when we came in they were super fast! My son was super comfortable and healed beautifully! I highly recommend Dr. Tyko and his staff. They are the best!
- Suzette B.
Dr. Tyko is realllllllly nice, FAST, and professional. I wasn't fond of the idea of having a wisdom tooth removed (As I am sure nobody is). Initially I came in for a consultation...but they had space available to extract my tooth right then and there (I came with a referral and an xray). He walked me through the steps...and was even kind when I was sarcastic (Jitters???). Before I knew it the procedure was over. I never felt a thing and within 50 minutes of being in the office I was out the door with care instructions and relief! It was...maybe...kinda fun tool. :-P Thanks, Doc!
- X Z.
Dr Tyco has provided wonderful care for both myself and my son. He is attentive, ready to listen and will describe procedures to us in as much detail as we like. He is careful and excellent in his work. He is responsive and works to make everything turn out successfully and to our satisfaction. I would choose him again should we have the need
- Jo D.
What an outstanding group! I normally don't give reviews for surgeons, but if you have a mouth problem Dr. T is your guy! You saved me from pain, and fixed my mouth, a brighter smile today is thanks to you!
- Sean S.