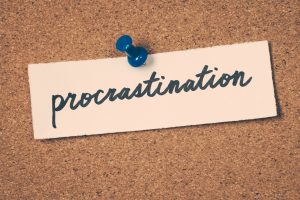 We know that the decision to replace your teeth … or even to schedule a dental implant consultation with us … can feel like quite a big ordeal to you. We understand that when you don't know the answers to what you're going through with tooth loss or what to expect, you can find yourself fretting simply as a result of not knowing what's coming. First, we can absolutely reassure you that the only thing headed your way when you visit our Santa Rosa, CA practice for oral surgery is improvement and a healthy smile! However, even with lots of helpful promises from our team, you may still feel the urge to procrastinate. Let's consider this very common reaction to smile issues, so you can gain the motivation to skip it and, instead, to charge ahead full steam!
It Makes You Feel Even More Stressed
The longer you wait to take care of something that you feel like you should have addressed yesterday (or several months or years ago), the more the stress surrounding that detail builds. Take that load of stress off of your shoulders by setting up a date and time to consult with our oral surgery team about dental implants. You'll feel such exceptional relief!
It Gets You Right Where You Started
Even though you may spend a lot of time thinking about dental implants and coming in to meet with our team to discuss your oral surgery needs, nothing actually happens until we see you. We know that researching and thinking and expending a lot of mental energy can feel as though you're accomplishing a lot. However, when it comes to protecting your smile and replacing missing teeth, when you procrastinate, you find yourself in the same boat and still in need of the exact same care as when you began (which can feel very frustrating).
It Gives Your Smile Problems Time To Advance
With nearly any concern that requires oral surgery, the longer you wait to come in to talk with us (whether you need dental implants for tooth loss, bone grafting for jaw damage, or otherwise), the more time you give problems time to advance. Missing teeth can encourage tooth shifting. Jaw damage can become worse. See us right away, so we can protect your smile as soon as possible.
See Us As Soon As You Can For Tooth Loss
Come in as soon as you can fit it into your schedule, so we may discuss oral surgery, implants, and how we can quickly and effectively complete your smile. Schedule the time you need in Santa Rosa, CA by calling Santa Rosa and Rohnert Park Oral Surgery at 707-545-4625 to schedule your visit today.