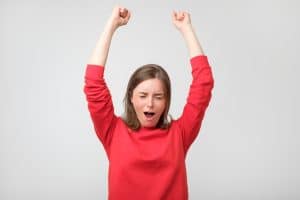 While you may not expect it, when you decide on dental implants and prepare to move forward, this choice may provide you with one exceptionally big sigh of relief. Why is this the case, you might wonder? Well, from our Rohnert Park, CA team's perspective, it's simply the fact that you don't recognize just how much effort you're putting into handling and solving your missing teeth, how heavy the decision can feel, and how seriously you want things to just be "all better" already! Feeling like you can definitely connect with this? We thought so! Consider some specific ways implants can help you feel content, if you're still making your final selection.
#1: They Let You Address Tooth Loss Forever
When you decide that dental implants are going to be your selection for your tooth replacement treatment, one of the reasons you can breathe a big sigh of relief? Implants, when cared for, are forever. So, you're not just setting yourself up for more time, more energy, a short-term solution, and dealing with addressing the open spaces in your smile all over again in a few years. Instead, you're protecting your jaw tissue from deterioration, you're replacing your roots, and you're making a decision that will provide you with a very, very long-term way of saying goodbye to an incomplete smile and hello to a complete one.
#2: All Of Your Daily Smile Problems? They're Solved.
What types of daily smile problems are you having these days? When you lose a tooth or more than one tooth, a new set of complications arises for you. You might have trouble saying certain letters and, as a result, certain words. Eating meals or certain foods may present a huge amount of frustration. You may feel very unhappy with the way your smile looks or even with the way it feels. You might feel worried all the time about what to do, what's going on with your oral health, and possible consequences. When you say yes to dental implants and restorations and you move forward with them, you also solve all of your tooth-loss-related concerns in one fell swoop. That certainly makes for one huge sigh of relief!
#3: You Get To Stop Researching Teeth Replacements!
A bit tired of performing in-depth daily research into the world of prosthetic dental care? Good news: We remind you that once you select dental implants, you're through! Simple as that. Phew!
 See Us For Implants To Complete Your Journey
Remember that in addition to completing your smile, you will also be completing your journey in the land of tooth loss, when you select dental implants and restorations with our team! Reach this goal soon with us! Schedule the time you need in Rohnert Park, CA by calling Santa Rosa and Rohnert Park Oral Surgery at 707-584-1630 to schedule your visit today.