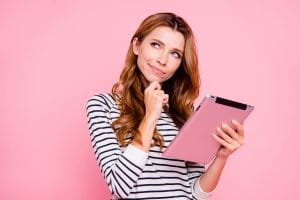 You may have the idea that we would prefer it if you would come in to our oral and maxillofacial surgery practice, agree to dental implants, ask no questions, and head home. However, this is actually not the way we prefer for your implant consultation or follow up visits to go! Instead, we encourage you to be inquisitive! Why, you wonder? Doesn't that slow things down and cause our Rohnert Park, CA team to work extra hard? Well, we enjoy putting forth effort to ensure your smile becomes the exceptionally healthy and lovely feature you deserve and want! As for some additional details…
Your Questions Help You Feel Confident
Your questions, once answered, can help you feel exceptional amounts of relief in terms of what you can expect. When you don't have an answer even to a simple question, it leaves you feeling unsure. When you feel as though you have learned all of the facts you require about dental implants in order to make a choice, it helps you feel extremely confident. So, ask your questions!
Your Questions Help Us Better Understand Your Needs
When you start asking us questions, it often reveals your needs, even when you cannot immediately simply respond to our questions about preferences. Maybe you ask us about budget, whether restorations are fixed or removable, etc., and in response, we can more easily help guide you toward treatment options that best address your smile!
Your Questions Ensure You Leave No Stone Unturned
There's nothing quite so frustrating as feeling almost entirely positive about something, whether it's dental implants or anything else. So, leave no stone unturned! Get the answers you need, so you can more easily compare every last solution for your complete smile.
Your Questions Help Us Understand All Of Our Patients
The more we hear from our patients, and the more we recognize trends in the types of questions they ask, the easier it becomes for us to be able to forecast the concerns that are present in the collective consciousness! It makes it simpler to streamline explanations, options, and information, as we become more and more accustomed to current worries, uncertainty, and interests that are growing in popularity. So, help us better understand you and our patients in general by asking questions about dental implants and more!
Come In With Implant Questions Ready! 
See our team about dental implants, whether you're just getting started or are getting close to making your final decision, so we may offer you answers to any questions you might have about your smile. Schedule the time you need in Rohnert Park, CA by calling Santa Rosa and Rohnert Park Oral Surgery at 707-584-1630 to schedule your visit today.