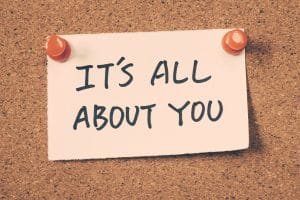 When you deal with tooth loss, you may find that you feel a bit like you don't have much control over things. One moment your smile was complete and now it isn't, which can make it seem like things have been happening to you. It's not the nicest feeling in the world, particularly when you combine it with the fact that you are missing some of your teeth now. However, our Rohnert Park, CA team is happy to remind you of something in regard to your dental implants that will certainly strike a chord. It's about the fact that usually, the answer to implant-related plans is all about you. Find out what we mean!
Who Is The Person Benefitted By Implants?
We want you to remember that when you ask yourself about the person that will benefit when you choose dental implants, the answer is YOU. You will be the one who receives root replacements, which will help to stimulate your jaw tissue, so your jaw remains healthy. You'll receive restorations after your implants and your mouth is ready, which will give you a complete smile back! While you may not feel in control of much as you deal with tooth loss, remember that you're in control when it's time to replace those teeth!
The Person In Control Of Your Smile Completion Is?
Sound familiar? We repeat it because it's very important to remember. You are the person who is in charge of what happens with your smile. You have the freedom to speak with us at length about the benefits of dental implants and restorations and which approach will work wonders for you. In addition, you are more than welcome to investigate all of your options!
Who Gets The Ball Rolling On Considering Implants?
You may feel as though there are people out in the world who know you're dealing with tooth loss and that before you know it, you'll be receiving ads in the mail and phone calls about possible options for tooth replacement. However, the truth is that the person who will get the ball rolling on this one is you. When you're ready to learn more about dental implants, give our team a call! When you're ready to move forward with treatment, let us know! There's no pressure.
The Person With The Final Say Is?
It's still you. We will contribute by offering professional guidance but when the time comes, again, there's no pressure from our team! You will simply give us the green light!
Gain Control Of Your Smile
Rely on our oral and maxillofacial surgery team to help you, as you push yourself to learn about dental implants and to make selections that will allow you to enjoy a complete, healthy smile after tooth loss! Schedule the time you need in Rohnert Park, CA by calling Santa Rosa and Rohnert Park Oral Surgery at 707-584-1630 to schedule your visit today.