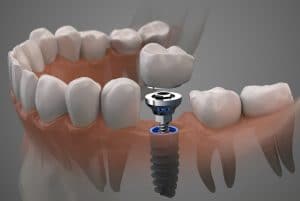 Preparing to receive dental implants can be an exciting time. After having experienced the consequences of tooth loss, you may be eager to once again enjoy the comfort and confidence that comes with a full and healthy smile. Yet, not knowing what to expect can also cause some anxiety for some patients. With the goal of making your treatment as comfortable and convenient as possible, we can help put those anxieties to rest by guiding you through what the implant procedure entails at our Santa Rosa, CA, oral surgery office.
An overview of dental implant restorations
Dental implants are unique to more conventional tooth replacement options, such as dental bridges and partial/full dentures. They're designed to offer replacements for your missing teeth roots, which means the implant posts must be surgically inserted into your smile's foundational bone structure. Dental implant posts offer maximum support for your prosthesis, and their absorption of your bite's pressure helps you better retain the strength and integrity of the surrounding bone structure. The success of your dental implants depends heavily on the implant placement procedure, as well as the quality of the restoration that they support.
Digital guides for implant surgery
When planning your dental implant placement, the first thing we do is carefully examine your smile using advanced digital imaging technology. For example, digital CT scans can help us create a 3D model of your teeth, dental ridges, and oral structures so we can plan your implant placement with optimal precision. The enhanced 3D imaging also allows us to create digital guides to improve the accuracy and precision of your procedure. A digital surgical guide shows in real-time where to place your posts, and what angle, to achieve maximum support for your restoration.
Preparing for and placing dental implants
The specifics of your dental implant treatment are unique your oral health needs, and in some cases, you may need to prepare for it by addressing an oral health concern, or strengthening your smile's foundation. Sometimes, this may require grafting to enhance the mass and density of bone in your dental ridges, or undergoing treatment to successfully manage periodontal disease. Once your oral health is ready, and we've created your personal surgical guide, we can place your dental implant posts with optimal chances of long-term success.
Find out if you're ready for dental implants
Dental implants are designed to preserve your smile as much as restore it, which requires a careful and comprehensive approach to your implant placement procedure. To learn more, schedule a consultation by calling Santa Rosa and Rohnert Park Oral Surgery in Santa Rosa, CA, today at 707-545-4625.