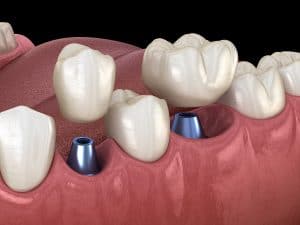 If you lose one or more of your natural teeth, then replacing them is an important step in preserving the future health and integrity of your smile. For many people, the best solution is to replace their lost teeth with an appropriate number of dental implant posts, which are designed to mimic healthy, natural teeth roots. Dental implants can be used to support a custom-designed dental crown, bridge, or denture (depending on how many teeth you've lost). They're often the preferred solution for tooth replacement because they're the only solution for replacing your lost teeth roots.
Implants compared to bridges and dentures
Traditional dental bridges and dentures have long been successful at helping patients regain their confidence and much of their bite function following tooth loss. While bridges and dentures can be designed to closely mimic the size, shape, and appearance of lost teeth crowns, they don't come with prosthetic roots. This means they rely on other means for support, such as dental crowns and abutment teeth for dental bridges, or clasps and adhesives for partial and full dentures. By giving your dental restoration one or a series of root-like posts to rest on, dental implants can significantly improve its ability to restore your smile, oral health, and bite function.
Dental implants and your bite function
When it comes to replacing lost teeth, the most important reason for choosing a lifelike restoration is to more fully restore the functions of your lost teeth. This includes promoting healthy, balanced bite function, which relies on a full row of teeth on both your upper and lower dental ridges. However, your teeth function optimally because they're supported by durable roots, and only dental implants can mimic this support to optimize the function of your dental restoration, as well.
Implanted support for your replacement teeth
When your dental crown, bridge, or denture is supported by one or more dental implants, they can function and feel more like your healthy, natural teeth. This includes eliminating some of the concerns that come with more traditional restorations, such as their tendency to lose their grip and shift uncomfortably over time. Implanted anchors prevent this from occurring, allowing you to enjoy the comfortable and lifelike fit of your restoration for much longer.
Learn more about the benefits of dental implants
For many patients who need to replace one or more lost teeth, dental implants are often the preferred solution, and for many good reasons. To learn more, schedule a consultation by calling Santa Rosa and Rohnert Park Oral Surgery in Santa Rosa, CA, today at 707-545-4625.