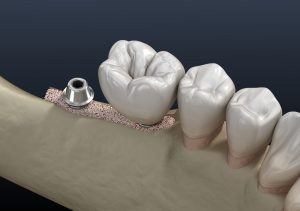 Did you know that once you lose one or more of your natural teeth, complications could begin to arise? The jawbone around the missing teeth begin to lose both strength and density, meaning that placing dental implants could be impossible without first rebuilding these portions of your smile. In today's blog, your Santa Rosa and Rohnert Park, CA, oral surgeons explain how we accomplish this with ridge augmentation and sinus lifts.
How Your Jawbone Loses Strength and Density
When your body recognizes the presence of tooth roots, it will continue to provide regular doses of calcium and phosphorus, which keeps the bone tissue strong and whole. However, once we lose one or more tooth roots, the flow of these nutrients to these portions of the jaw is suspended. Without these nutrients, the bone tissue loses mass and density. What follows is the further loss of natural teeth, and major negative changes to your facial structure. Some people could even develop premature signs of aging! If you don't have enough tissue to support a dental implant, then you may not be able to restore function and beauty to your smile, or prevent further loss of jawbone tissue.
Ridge Augmentation and Sinus Lifts
Basically, these procedures are designed to help rebuild your smile. With ridge augmentation, we could take bone from the back of your jaw, or from your hip, and graft it to the portions of your smile that have lost structure. We could also use donor tissue or synthetic options as well. This helps support new roots. We reserve ridge augmentation for the lower jaw, but for the upper jaw we could perform a sinus lift to expose new tissues to insert your dental implants into. We will administer a numbing agent and sedation to ensure you remain comfortable throughout these procedures, and discuss detailed aftercare to ensure healing without complication.
Implant Placement
Once the area has healed, we can insert one or more implant posts into the jaw. The body will accept them as new roots, since they are made from biocompatible titanium. They then bond like roots, and stimulate the growth of bone tissue to support your facial structure. We can not only replace a single missing tooth, but also support a full set of fixed dentures as well. If you have any questions, then give our team a call.
Do You Have Questions About Rebuilding Your Jaw's Strengthen?
We want to help rebuild your smile, so you're ready for new teeth and also so your facial structure is preserved. To learn more about how our team helps pave the way for the placement of your new dental implants, then schedule a consultation by calling Santa Rosa and Rohnert Park Oral Surgery in Santa Rosa, CA, today at 707-545-4625.