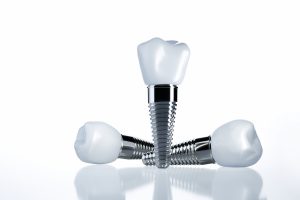 When you lose only one tooth, this could still mean major problems with your smile unless addressed. For a tooth replacement option that not only looks great, but has the potential to last for decades to come, then your Santa Rosa and Rohnert Park, CA, oral surgeons may offer an implant and crown. In today's blog, let's talk about individual implant placement.
The Factors Behind Missing Teeth
How do we end up losing a tooth? Well, there could be several reasons. For example, untreated cavities or dental infection could mean a tooth is lost or requires extraction to prevent the spread of infection. For others, an injury or accident could knock a tooth out or damage it severely. But the most common cause of adult tooth loss is untreated gum disease. When the disease reaches the later stage, known as periodontitis, this destroys the tissue connecting the teeth and gums, so teeth become loose or lost. When we lose even one tooth, this could cause the onset of misalignment, strain the bite balance to cause TMJ disorder or teeth grinding, or could simply be a source of embarrassment. However, the greatest danger is the loss of jawbone structure that follows, as the body stops sending key nutrients to the jawbone around the lost tooth. This could mean further tooth loss with time!
The Benefits of a Dental Implants
A dental implant is a biocompatible titanium post that is screw-like in appearance. When we insert them into the jawbone where the old tooth once resided, the body accepts it as natural. This stimulates the growth of bone tissue, supporting the new tooth for decades, possibly a lifetime, and prevents further complications linked to missing teeth. Placement is always planned and guided with advanced digital technology, ensuring your new tooth is placed with precision and accuracy.
Restoration With Crowns
The implant post is your new root, but what is your new crown, or the visible portion of your tooth? For that, we will attach an abutment and use it to secure a dental crown. Custom-made for your smile and shaded to blend with it, the crown provides a durable and lifelike chewing surface. When complete, your new tooth will look and fit like a natural one, and help you enter optimal oral health and beauty. If you have any questions about how we approach missing teeth, or about the implant placement process, then contact our team today.
Do You Have Missing Teeth?
We're ready to help you on your journey to a complete smile, by offering advanced dental implants. To learn more about the process of addressing missing teeth, then schedule a consultation by calling Santa Rosa and Rohnert Park Oral Surgery in Santa Rosa, CA, today at 707-545-4625.