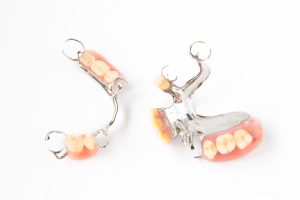 A partial denture is a unique prosthetic that addresses cases in which there are several gaps spread out across your smile, which could be too complex for a bridge or a full denture. But to offer greater stability, your Santa Rosa and Rohnert Park, CA, oral surgeons can secure these partials with dental implants.
The Need for a Partial
As we touched on above, a partial is recommended for cases of tooth loss too severe to be handled with a simple dental bridge, but not severe enough to require extracting teeth and placing a complete denture. The prosthetic itself consists of new teeth set in a base that mimics the appearance of gum tissue, made from acrylic. The new teeth will be designed and color-matched to blend with your smile, and also offer a durable chewing surface. Metal clasps will attach to natural teeth and secure your prosthetic. However, instead of using these claps, we can support them with advanced implant dentistry!
Crafting the Prosthetic
How do we ensure your prosthetic looks natural? To begin, we will examine your smile to assess the factors behind your tooth loss. You may need to care for underlying oral health issues before we proceed. Next, we take detailed impressions and images of your smile with digital scanning technology. In our lab, we then craft the prosthetic specifically for your smile. The finished product should reflect your unique facial structure and the shade of your teeth and fit comfortably, offering a balanced bite.
Placing Your Implant and Attaching the Partial
Using advanced iCat digital scanning systems, we plan and guide the placement of multiple dental implant post into your jawbone. To ensure the process is comfortable, we employ dental sedation. Once the dental implants are in place, we can add abutments and attach your prosthetic. The fixed denture will never slip or require removable for soaking or cleaning. Since we support them with dental implants, which stimulate the growth of jawbone tissue, your new teeth can last for decades to come, maybe even a lifetime. If you have any questions about addressing your missing teeth, or about how we use oral surgery to rebuild smiles and replace your lost teeth, then contact our team. We're ready to help you enjoy a complete smile that looks and functions like a natural one!
Do You Have Questions About the Implant Process?
We want to make sure you avoid the complications of untreated tooth loss and gain the ability to smile with confidence. Implant dentistry means a stronger smile, and one that can last decades to come, if not a lifetime! To learn more about implant dentistry and tooth loss solutions, then schedule a consultation by calling Santa Rosa and Rohnert Park Oral Surgery in Santa Rosa, CA, today at 707-545-4625.