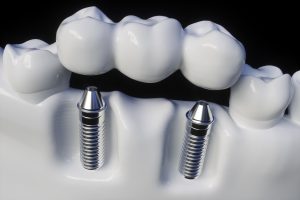 When you suffer from the loss of multiple teeth in a row, then a bridge could be recommended. However, they often require the loss of natural tooth structure for support, and only last about ten years. Fortunately, your Santa Rosa and Rohnert Park, CA, oral surgeons can support a bridge with dental implants, so it lasts longer and preserves natural tooth structure!
Conventional vs. Implant
A conventional dental bridge contains your new teeth, known as pontics, and has crowns attached to either end. The natural teeth on either side of the gap in the smile will have structure removed from them, and will act as abutment teeth. The crowns will be placed on them, and secure the pontics in place. While effective, they don't address the gradual breakdown of jawbone tissue that happens following tooth loss. Fortunately, when we insert dental implants, they stimulate the growth of bone tissue. We then attach the crown portions of the bridge to the implants, preserving natural tooth structure. Since the jawbone isn't losing mass and density now, the prosthetic has the potential to last for decades, possibly even a lifetime!
Preparing Your Smile
First, we need to thoroughly examine your smile and assess the extent of your tooth loss. From there, we will decide on the best prosthetic option. Using digital technology, we plan and guide the placement of one or more dental implants into the gap in your smile. Detailed digital impressions will be taken of your smile and used to design and create the prosthetic. We craft the finished product from lifelike and durable materials, so they look natural and absorb daily bite forces. We want you to feel proud to smile once your new teeth are firmly in place!
Placement and Care
The crowns will be attached to the implants, securing your new teeth. To preserve your smile and prevent issues like tooth loss, you need to take care of your smile each day with brushing and flossing, and see your general dentists for a checkup and cleaning. We will also keep an eye on your implants and prosthetics, to make sure they remain strong and stable. If you have missing teeth and could like to obtain a lifelike and durable replacement option, then contact our team today. With implant dentistry, we can replace one lost tooth, or secure a bridge or even a full fixed denture!
Do You Have Questions About Implant Prosthetics?
Our team wants to help you enjoy new teeth that look natural and last for many years to come. Dental implants act as new roots, and preserve your facial structure in the process too. To learn more about how we support a long-lasting and secure prosthetic, then schedule a consultation by calling Santa Rosa and Rohnert Park Oral Surgery in Santa Rosa, CA, today at 707-545-4625.