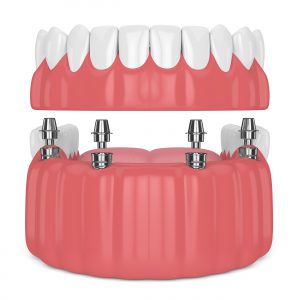 Removable dentures often need to be replaced every five to ten years. But what if we secured a set of dentures with a series of dental implants? In today's blog, your Santa Rosa and Rohnert Park, CA, oral surgeons discuss how using dental implants to attach a prosthetic could allow your new smile to last for decades to come.
The Longevity of Dental Implants
Dental implants have a 90% success rate, and many could last for decades or possibly a lifetime. How is this possible? Each dental implant post is made from titanium, a biocompatible material the body accepts as natural bone. The post then bonds with the jawbone through osseointegration. This process prevents the breakdown of mass and density in the jawbone, which occurs following tooth loss. Not only will your new roots last for years to come, but this also prevents further tooth loss and preserves your facial structure too!
Creating Your Dentures
What about the denture portion? We take detailed impressions and images of your smile with 3D imaging technology, using them to help design a prosthetic. The resulting prosthetic will look like natural teeth and may be set in an acrylic base that mimics the look of gum tissue. The teeth will be shaded to blend with your smile and look natural. The prosthetic is then attached to the implant posts with a series of abutments. Bring custom-made means a comfortable fit and a balanced bite.
Your New Smile
The prosthetic is fixed in place so it never needs to be removed for cleaning or soaking, and is easy to care for. They never slip when you eat or speak, and you enjoy a new smile that lasts for decades, possibly a lifetime. Routine care, including daily brushing and flossing and visits to your general dentist for checkups and cleanings, can help protect the implants from exposure to gum disease and other issues that could cause them to fail. If you have any questions about how we place dental implants or address tooth loss, or if you have missing teeth and would like to discuss your options, then contact our team today. We want to help you enjoy a full smile once again!
Do You Have Questions About Implant Dentures?
Implant dentistry allows our team to provide a full smile that lasts for many years to come. To learn more about securing a set of fixed and lifelike prosthetics, then schedule a consultation by calling Santa Rosa and Rohnert Park Oral Surgery in Santa Rosa, CA, today at 707-545-4625. Our team is ready to address serious issues with your smile, and to also help with tooth loss by providing implant placement. A complete smile that looks natural and lasts a lifetime is possible.