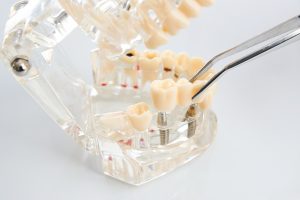 When you have minor gaps in your smile that require more than one individual dental implant, then we may recommend a bridge. We take steps to ensure a proper fit and a lifelike appearance, and longevity by securing them with implant dentistry. In today's blog, your Santa Rosa and Rohnert Park, CA, oral surgeons talk about our implant bridges.
The Dental Bridge
The bridge is a common prosthetic used to address more minor cases of tooth loss. Essentially, the prosthetic contains your pontics, the term used for new teeth, and crowns attached to each side. The crowns are usually placed on the natural teeth on either side of the gap, known as abutment teeth. This secures the pontics in place, but requires the removal of tooth structure for the abutment teeth. The prosthetic addresses between one and three missing teeth in a row, and usually lasts about 10 to 15 years on average. They are also designed to blend with your smile seamlessly.
Support with Implant Dentistry
To preserve the structure of your natural teeth and offer a longer-lasting option, our team could instead insert one or more dental implant posts into the jawbone. Made from biocompatible titanium, this bonds with the bone tissue like natural roots. Which means we attach the crown portions to the free-standing posts instead of natural teeth. The posts help stimulate the growth of bone tissue, preserving them and preventing the loss of mass and density that follows tooth loss. Which means your new teeth could last for a lifetime, or at least several decades in some cases!
Getting Started
To begin, schedule an appointment with our team. We will assess the extent of your tooth loss and identify the factors behind it. We may need to treat underlying oral health issues, such as gum disease, to prevent implant failure. We then take digital images of the smile which we use to create 3D computer impressions, designing and crafting the bridge with precision and accuracy. The dental implants will be guided in place with advanced surgical guides. If you have list one or more of your natural teeth, don't let your smile develop negative changes as a result. Instead, talk to our team to learn more about tooth replacement with implants and prosthetics.
If you have any questions, please give our team a call today. We're ready to help you enjoy a complete smile again!
Do You Have Any Questions About Implant Prosthetics?
We would like to help you fill the gaps in your smile with a strong and durable replacement option. To learn more about the process of addressing missing teeth, then schedule a consultation by calling Santa Rosa and Rohnert Park Oral Surgery in Santa Rosa, CA, today at 707-545-4625. You can once again smile with confidence!