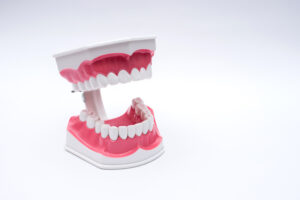 We use dental implants to address missing teeth and restore function and beauty to your smile. But sometimes, we need to remove damaged or diseased teeth before we move forward with placement. In today's blog, your Santa Rosa and Rohnert Park, CA, oral surgeons talk about the extraction and dental implant placement!
When You Need Extraction
A tooth could require extraction if it is too decayed, diseased, or infected to be repaired with a root canal or dental restoration. We could also take out teeth to facilitate orthodontic treatment or to prevent painful wisdom tooth impaction. But for many people, we perform this procedure as part of the dental implant placement process. For example, if you have lost most of your teeth and we need to prepare your smile to receive a complete set of implant dentures. In some cases, we can complete the implant dentures in only one visit.
Preparing Smiles
We start with a detailed exam, in which we take a series of images and measurements of your smile with advanced CBCT technology. These allow us to carefully plan the extraction and the implant placement process with precision and accuracy. Next, we administer a local anesthetic and dental sedation to ensure you feel calm and comfortable. Often, you will have little to no memory of the procedure at all! The teeth in question will be gently extracted with a pair of forceps. We then take steps to preserve the ridge with medicated materials, so the area heals without complication and your smile is ready to move on to the next stage: dental implant placement. 
Placing New Teeth
When you're ready to receive your new dentures, we will guide the placement of dental implants posts with digital surgical guides. Once these new roots are in place, we attach abutments so we can connect the denture. With options like All-On-Four and TreFoil, we can support dentures with as little as four or even three dental implants. We can also attach the finished prosthetic in one visit, so you leave with a complete smile! Untreated tooth loss could mean problems eating and speaking, and even a prematurely aged appearance. To avoid these complications, talk to our team about tooth replacement. If you have any questions about how we gently remove teeth with a tooth extraction, or about replacing missing teeth with dental implants, then contact our team today. We want to help you enjoy a full and beautiful smile in 2022! 
Do You Have Questions About Tooth Extraction?
We would like to help address your tooth loss. To learn more about preparing smiles for placing new teeth, schedule a consultation by calling Santa Rosa and Rohnert Park Oral Surgery in Santa Rosa, CA, today at 707-545-4625.