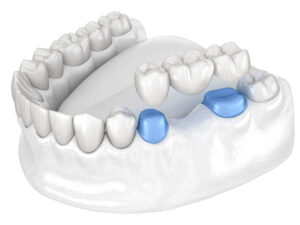 When you have more than one tooth missing, and they're in a row, this could mean a bridge is necessary. For a more secure and long-lasting one, we may support your dental bridge with one or more dental implants. In today's blog, your Santa Rosa and Rohnert Park, CA, oral surgeons talk about our implant bridges.
The Impact of Tooth Loss
A missing tooth, even just one, could cause major problems for your smile. First, you could feel embarrassed about your appearance which harms your quality of life. But the surrounding teeth could eventually drift from position due to the gap, which leads to misalignment and a higher risk of cavities and gum disease. Others develop TMJ disorder or even bruxism (teeth grinding) due to the changes in bite balance. The body will take note of your missing root and suspend the flow of calcium and phosphorus to the jawbone, which means the bone tissue loses mass and density, a recipe for further tooth loss and even a prematurely aged appearance!
Creating Your Dental Prosthetic
To address between one and three missing teeth in a row, we could recommend a bridge. The prosthetic contains one or more new teeth, known as pontics, with dental crowns attached to each end. We custom-make the prosthetic based on detailed digital images and measurements we take of your smile. Using ceramic, we create pontics and crowns that look natural and blend with the first of your smile seamlessly, while also offering a durable chewing surface.
Inserting Dental Implants
With traditional options, the crowns would be attached to natural teeth. However, we will plan and guide the insertion of one or more dental implants into the gap in your smile. Made from biocompatible titanium, this new root bonds with the bone tissue through osseointegration. We then attach the crown portion of your prosthetic to the implant using abutments. Your new bridge will be sturdy, lifelike, and able to last for decades to come, possibly even a lifetime! In comparison, traditional options need to be replaced every 10 years or so. The implants prevent the breakdown of mass and density in the jaw, preventing further tooth loss and preserving your youthful features.
If you have any questions about supporting a custom bridge with implant dentistry or if you have missing teeth you're ready to replace, then contact our team today to learn more. We want you to smile with confidence again!
Ready for a Full Smile Again?
We're ready to help replace missing teeth with an option that also preserves your smile. To learn more about addressing your lost teeth with a lifelike prosthetic, then schedule a consultation by calling Santa Rosa and Rohnert Park Oral Surgery in Santa Rosa, CA, today at 707-545-4625.