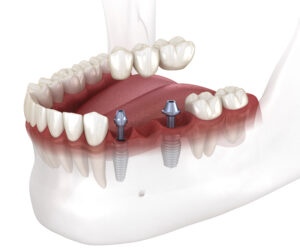 A dental bridge can help address a gap caused by a single missing tooth, or up to three or four in a row. While traditional options can last for 10 to 15 years on average, we could use dental implants to support one that lasts a lifetime, and preserves your smile too. In today's blog, your Santa Rosa and Rohnert Park, CA, oral surgeons talk about dental implant bridges.
When Smiles Need a Bridge
As we touched on above, a dental bridge is meant to literally bridge the gap between missing teeth. Typically, the prosthetic is connected to the natural teeth on either side of the gap, now as abutment teeth. This necessitates the removal of natural tooth structure. However, we can now support them with dental implants, which means preserving natural tooth structure and offering a more lifelike appearance. Essentially, we recommend this prosthetic if you have between two and four missing teeth in a row. To begin, we will take detailed images of your smile with advanced digital technology, allowing us to design the prosthetic and oversee the implant placement with accuracy and precision.
Stronger Support Options
To begin, we will use digital surgical guides to insert the dental implants at specific angles and positions. The body will accept these biocompatible titanium posts as natural roots, and bond with them through a process known as osseointegration. This means the posts can last for years to come. Once they're in place, we will attach the prosthetic. The dental bridge will be custom-made and crafted using ceramic, a material that absorbs daily bite forces and can be color-matched to blend with the smile too. It consists of replacement teeth known as pontics, and crowns attached to each end. We connect the crowns to the implant posts, and this secures your new teeth firmly in place.
Benefits for Your Smile
Filling the gap reduces the risk of misalignment developing, and helps preserve the balance of your bite, preventing complications like TMD or bruxism. You can eat your favorite foods again, and also smile with confidence. The implants themselves help stimulate the growth of jawbone structure, which prevents the loss of mass and density that usually follows tooth loss. This helps your new teeth stay in place for decades to come, and avoid further tooth loss or a prematurely aged appearance. If you have any questions about our approach to replacing missing teeth, then contact our team today to learn more. We're here to help you enjoy your best possible smile!
Do You Have a Gap in Your Smile?
We would like to help you smile without hesitation again! To learn more about treating missing teeth and restoring your smile, then schedule a consultation by calling Santa Rosa and Rohnert Park Oral Surgery in Santa Rosa, CA, today at 707-545-4625.