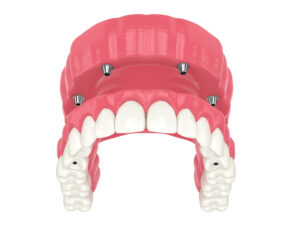 When faced with total tooth loss, lack of treatment could mean major problems with the function and beauty of your smile, and a prematurely aged appearance too. To provide a new smile, often with as little as four implant posts per arch, we could offer a full arch restoration. In today's blog, your Santa Rosa and Rohnert Park, CA, oral surgeons talk about implant dentures.
The Impact of Tooth Loss
When we lose a large number of our teeth, this could cause serious trouble for our smiles. The body will respond to the missing roots by suspending or diverting the flow of calcium and phosphates to that area of the jaw. Without these nutrients, the bone tissue actually begins to lose mass and density. The breakdown then causes further tooth loss and an aged appearance. For many, this loss of mass and density could limit the options for replacing teeth without first undergoing procedures like jawbone grafting or sinus lifts.
Inserting Dental Implants
We want to preserve your smile, and that includes your youthful facial features. Which is why we want to preserve your arch with a set of dental implant dentures. Even if you've lost mass and density, we can still help with options like All-On-Four or Trefoil, which require less jawbone structure to support new roots. We need as little as three to four implants placed at specific angles and positions to support the jawbone structure. This preserves the arch while also preventing the need for oral surgery to rebuild the weakened portions of the smile. The body accepts them as natural roots, and this stimulates the growth of natural jawbone tissue to prevent further tooth loss and ensure your new prosthetic can last for decades to come, possibly a lifetime!
Attaching a Prosthetic
In some cases, this can be completed in a single visit. After we insert the dental implants into the jaw, we will attach abutments to them. We then connect the prosthetic to the abutments. This fixes the dentures in place so they never slip, and you can eat your favorite foods again. They look and function like natural teeth, so you can smile with confidence again. If you have more than one missing tooth and need treatment, then contact our team today to learn more. We want to help address your tooth loss, whether minor or severe, with a durable and long-lasting dental implant option.
Do You Need a Complete Prosthetic?
With advanced technology and durable materials, we can provide a full arch restoration. To learn more about our custom and lifelike fixed dentures, then schedule a consultation by calling Santa Rosa and Rohnert Park Oral Surgery in Santa Rosa, CA, today at 707-545-4625. A complete smile is possible, even if you've lived years with substantial tooth loss.