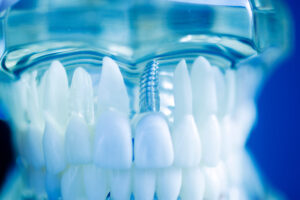 We want to help people with severe tooth loss, including the total loss of natural teeth, obtain a full and beautiful smile again. Which is why we not only offer dental implant dentures, but your Santa Rosa and Rohnert Park, CA, oral surgeons use the advanced and high-quality Straumann® dental implants.
The Benefits for Your Smile
When we lose our teeth, the body will take notice. The flow of calcium and phosphates to the smile around the missing teeth is suspended or diverted. What this means is the gradual break down of the jawbone structure there, which leads to further tooth loss and an aged appearance. But the use of dental implants, which are crafted from biocompatible titanium materials, means the jawbone doesn't degrade, and the body resumes the flow of key nutrients. This not only prevents further tooth loss and protects your facial structure, bhut allows your new teeth to last for decades to come, or possibly even a lifetime.
The Advanced and Lifelike Straumann® System
We're so excited to offer the Straumann system for a number of reasons. First, this is the number one manufacturer of dental implants, with 60 years of experience and 20 million new smiles sold so far. Many of them can be placed and restored in only one visit. They're fixed in place, and never slip when you eat or speak, and act like natural teeth. The dentist or orthodontist can remove them for maintenance and cleaning as needed. The company understands that every smile is different, and their dentures and individual implants are designed to be customized for smiles of different shapes and sizes, so they fit comfortably, act like real teeth, and help prevent the breakdown of mass and density in your jaw. They're also designed to be affordable without sacrificing quality or durability.
Protecting Your New Smile
We want you to be able to enjoy your favorite foods, speak without difficulty, and smile with confidence once again. You deserve a smile that looks and functions like a natural one, so you can enjoy a better quality of life. Our team can not only provide your new teeth, but help you maintain them and better understand your overall oral health. We're ready to work with your general dentist and orthodontist as well. If you have any questions about addressing missing teeth or about our Straumann products, then contact our team today.
Ready for a Full Smile Again?
We use high quality materials and advanced digital technology, we can help address major tooth loss. To learn more about treating severe cases of tooth loss, then schedule a consultation by calling Santa Rosa and Rohnert Park Oral Surgery in Santa Rosa, CA, today at 707-545-4625.