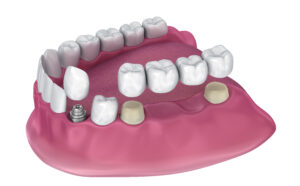 What do you know about dental implants? These are a lifelike, durable, and long-lasting solution for replacing missing teeth, whether you need one tooth replaced or several. In today's blog, your Santa Rosa and Rohnert Park, CA, oral and maxillofacial surgeons talk about implant dentistry and tooth replacement.
The Parts of Your New Tooth
First, let's talk about dental implants themselves. Each one consists of three main parts. The implant portion is a screw-like post made from titanium, a biocompatible material the body accepts as natural bone structure. The next is the abutment, which connects to the post and extends above the gum line. Finally, we have the restoration. Usually, a crown attached to the abutment, this offers a natural appearance and a durable chewing surface, being custom-made for your smile. If you're receiving several posts, we could then attach a bridge or even a full set of dentures.
Inserting and Restoring Your Implant
Our team will plan and guide the entire process with advanced digital technology, so we can surgically insert the post or post into the jaw at the perfect angle and position to not only support your new teeth, but to also stimulate the growth of jawbone tissue. This prevents the breakdown in the jaw that tends to follows tooth loss, so you maintain your facial structure and also new teeth that can last decades to come!
The Benefits for Your Smile
Your new teeth will prevent the loss of mass and density in the jawbone, so you don't develop a prematurely aged appearance or lose any remaining natural teeth. The dental implants can last for decades to come, or possibly a lifetime, so you can smile with confidence and eat your favorite foods. This helps you avoid the complications of tooth loss, and safeguard your overall oral health. If you have one or more missing teeth, then consider scheduling a consultation to see what your best options are for addressing your tooth loss. Whether you have a single lost tooth, or are missing your entire smile, we can help with a lifelike and durable tooth loss solution.
If you have any questions or concerns about this process, then contact our team today to learn more. We want to help people of all ages in our community enjoy a full and functional smile for years to come.
Do You Have Questions About Implant Dentistry?
Our team would like to help you enjoy a complete smile that lasts for decades to come with advanced technology and lifelike materials. To learn more about treating missing teeth and restoring smiles with implant dentistry, then schedule a consultation by calling Santa Rosa and Rohnert Park Oral Surgery in Santa Rosa, CA, today at 707-545-4625.