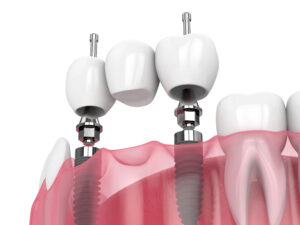 A dental bridge is an excellent way to address more minor cases of tooth loss, restoring function and beauty to the smile. But by supporting them with one to two dental implants, you can secure one that lasts for decades to come, maybe even a lifetime. In today's blog, your Santa Rosa and Rohnert Park, CA, oral surgeons talk about implant-supported bridges.
The Causes of Tooth Loss
Why do we lose natural teeth, and what does this mean for our smiles? Tooth loss could be the result of a serious injury, or due to untreated cavities and infections. The most common cause is the advanced stage of gum disease, known as periodontitis. Whatever the cause, this could cause a gap that leads to misalignment, as teeth begin to drift from position. This leads to negative impacts on smile beauty, and leaves teeth more vulnerable to tooth decay and gum disease. The changes in your bite balance could cause painful complications like TMJ disorder and bruxism (chronic teeth grinding). But the most severe complication is the loss of mass and density in the jaw, which occurs when the body notices the missing roots and suspends the flow of calcium and phosphorus to the jawbone. This means further tooth loss and an aged appearance!
Creating the Bridge Portion
To handle between two and four missing teeth, we could secure a custom-made bridge with one to two dental implants. To get started, we need to gather detailed digital images of the smile, which we will use to plan the placement of the dental implants, and also design the bridge. The prosthetic will contain new teeth with dental crowns attached to each end. They will be crafted from materials like ceramic, so they can be shaded to blend with the smile and also absorb daily bite forces with ease.
Dental Implants
The dental implants will be inserted at specific angles and positions to not only support the prosthetic, but also stimulate the growth of jawbone structure too. We then attach the bridge to them with abutments, so you have a fixed prosthetic that never moves, never requires removable, and can last for decades to come with proper care and attention. A visit now is a chance to obtain a new smile and use your 2022 dental benefits before they expire. If you have any questions about treating your tooth loss, then contact our team today to learn more.
Do You Have Questions About Treating Tooth Loss?
We would like to help you enjoy a full smile, one that could last for decades. To learn more about our fixed and long-lasting prosthetics, then schedule a consultation by calling Santa Rosa and Rohnert Park Oral Surgery in Santa Rosa, CA, today at 707-545-4625.