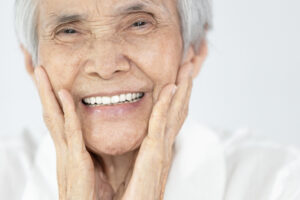 We've looked at how dental implants can secure bridges and partials to address minor and complicated cases of tooth loss. But what if you're missing most or all of your teeth? In these situations, your Santa Rosa and Rohnert Park, CA, oral surgeons could ensure a fixed set of full dentures with as little as four dental implants per arch.
The Causes of Tooth Loss (and the Dangers)
A number of major complications arise when we lose the majority of our natural teeth. For example, we're severely limited in the kinds of foods we can consume, which limits nutritional intake. Speaking clearly can be problematic, and the changes to our appearance could lead to embarrassment in social situations. The body will also suspend the flow of calcium and phosphates to the jawbone around the missing roots. This means the jaw loses mass and density and breaks down, causing a prematurely aged appearance! Which is why when you lose your teeth, even if years have elapsed, you should talk to our team about possible solutions.
Securing Your New Roots
First, we will need to assess the strength of your jawbone. For some, we could use only four dental implants per arch, so even with weakened jaw structure we can support a full denture. We could also strengthen the jawbone by using grafting and sinus lifts to rebuild the structure, so your smile can support new roots. Made from biocompatible titanium, these will bond with the jawbone and act like real roots. This causes the flow of calcium and phosphates to resume, keeping the jawbone strong and preventing further loss of mass and density. The poses can then keep your new teeth in place for decades to come, maybe even a lifetime!
Attaching a Custom Prosthetic
Once we insert your new roots, we will connect the denture. For options like All-On-Four, we can offer this in the same appointment as the implant placement. The denture portion will be custom-made to not only look natural, but offer a durable chewing surface. We add abutments to the posts and then connect the denture. These will be fixed in place, and never slip when you eat or speak. You will be able to smile with confidence for years to come, and eat your favorite foods again.
If you have any questions about how we treat advanced tooth loss, then contact our team today to learn more.
Do You Have Questions About Restoring Your Smile?
A full smile is possible with our lifelike and custom prosthetics. To learn more about how we secure full and fixed dentures, then schedule a consultation by calling Santa Rosa and Rohnert Park Oral Surgery in Santa Rosa, CA, today at 707-545-4625.