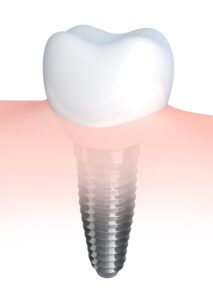 When you have missing teeth, we could use advanced technology to plan and guide the placement of dental implants. Our team can use them to support a single one, or even a full set of fixed dentures. In today's blog, your Santa Rosa and Rohnert Park, CA, oral surgeons talk about guided dental implant placement.
Dental Implants
Dental implants are an advanced option for replacing missing teeth. They contain three major parts. The implant portion is a screw-like device that is made from titanium, a biocompatible material. We insert these into the jawbone, where it bonds with the bone tissue through osseointegration. We then connect an abutment to it, which extends above the gum line. For an individual option, we will attach a crown to complete the new tooth. If you have multiple implants, we could secure a bridge, or even a fixed set of full or partial dentures. But to ensure the success of the new teeth, we need to thoroughly plan and guide the placement process.
Digital X-Rays
Digital x-rays have several benefits over traditional x-rays. First, they use 90% less radiation, and they don't need to be developed in chemicals, so they're easy on the environment and available chairside instantly. You don't need to wear bite wings either! When planning your implant placement, we will use a digital panoramic option that captures your entire mouth in a single x-ray image. We can see your smile from multiple angles, and assess the strength of your jawbone.
3D Cone Beam Scanning
As part of the process, we also take cone beam computed tomography (CBCT) images of your smile, so we can create a 3D image of your entire head and mouth. This is also necessary for choosing the right position for your new teeth, as we can identify the presence of blood vessels, sinus cavities, and nerve tissues, avoiding these when we insert your new teeth.
Guided Placement
We also have detailed surgical guides, which determine how far to insert the new posts, and the position and angle to ensure the stability of your new teeth and a balanced bite, as well as the ability to stimulate the growth of new tissue and support a crown or prosthetic. If you have any questions about how we replace missing teeth with implant dentistry, then contact our team today to learn more. We want you to smile with confidence in 2023!
Do You Have Questions About Tooth Replacement?
Our team is here to help treat missing teeth with advanced replacement options. To learn more about planning and guiding the placement of new teeth, then schedule a consultation by calling Santa Rosa and Rohnert Park Oral Surgery in Santa Rosa, CA, today at 707-545-4625.