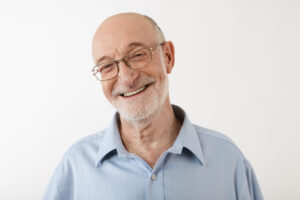 If you have lost most of your teeth and your jawbone has weakened, this could limit tooth replacement options. But with the unique TreFoil™ system, we can support a complete set of dentures with as little as three dental implant posts. In today's blog, your Santa Rosa and Rohnert Park, CA, oral surgeons talk about TreFoil™.
The Benefits of Full Dentures
When you lose most, if not all of your teeth, this could mean serious problems with your overall quality of life. Major tooth loss is linked to limited meal options and poor nutritional intake, as well as difficulty speaking clearly. You could feel embarrassed about your appearance and avoid social situations, and as the body provides the jaw with doses of calcium and phosphates following tooth loss, a prematurely aged appearance could follow. Which is why securing dentures with dental implants is so helpful!
The Complications of Lost Jawbone Density
As we touched on above, the body will respond to missing roots by suspending or diverting the flow of calcium and phosphates to the jaw. But with dental implants, we insert titanium posts, which are biocompatible and accepted by the body as natural root structure. This prevents the loss of mass and density, and stimulates the growth of jawbone tissue to keep your youthful features intact, and to also enable your new teeth to last for decades to come, possibly a lifetime in some cases. But what if time has passed since you lost your teeth and your jawbone has already weakened? While we could rebuild the smile with oral surgery, we could also secure TreFoil™ implant dentures to preserve the smile.
TreFoil™
With this option, we will secure just three posts into the jaw, set at specific angles and positions to protect the smile and preserve the structure of your face and jaw. A high-load bearing titanium post is then connected to the post and used to support your new dentures, which can often be secured in the same visit. With the denture portion, we take time to create a prosthetic that not only looks great, but can absorb daily bite forces to restore your ability to eat your favorite foods and smile with confidence once again.
If you have any questions about how we treat missing teeth or secure a set of fixed dentures with just three posts, then contact our team today to learn more. You can even use your 2022 dental insurance benefits before they expire!
Ready for a Complete Smile Again?
Even if you have weakened jawbone structure, we can still support a new smile. To learn more about our dental implant prosthetics, then schedule a consultation by calling Santa Rosa and Rohnert Park Oral Surgery in Santa Rosa, CA, today at 707-545-4625.