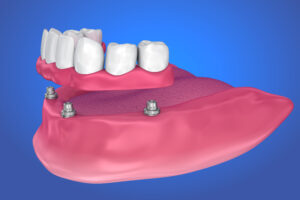 When you have severe tooth loss, this could alter how you eat and speak, and even lead to an older appearance. To not only replace missing teeth, but to also preserve your jawbone structure, then you need a full set of implant dentures. In today's blog, your Santa Rosa and Rohnert Park, CA, oral surgeons talk about implant-secured dentures.
The Causes of Tooth Loss
We could suffer from major tooth loss for a number of different reasons. A severe injury could cost you several natural teeth, and untreated decay or infection could lead to missing teeth too. But advanced tooth loss is often caused by gum disease, or specifically, the periodontitis stage, which destroys the tissues connecting your teeth and gums. When you suffer the loss of most or all of your teeth, your meal options are severely limited. You're also more likely to have trouble speaking. Many people with severe tooth loss suffer poor quality of life due to limited social interactions. But with dental implant dentures, we can restore your smile with a long-lasting option, one that can last for decades to come in some cases.
Dental Implant Dentures
Traditional dentures contain a complete row of lifelike ceramic teeth set in an acrylic base that mimics the appearance of gum tissues. Suction or adhesives keep them in place, and they need to be removed for cleaning and soaking periodically. They also last about five years, as they need replacement when your jaw ridge changes shape. However, with dental implants we inserted multiple posts into your jaw. These bond with your jawbone and act as new roots. This stimulates the growth of jawbone structure to prevent the changes in the jaw ridge that necessitate replacement. We then connect the prosthetic to them, which are custom-made for a natural appearance and a comfortable fit. You now have a fixed prosthetic that never needs to be removed, and will last much longer.
All-On-Four
If years have elapsed since you lost your teeth, your jawbone could weaken to the point that grafting or sinus lifts are needed to strengthen your jaw and make implant replacement possible. However, we could have an option that can be completed in one visit. With All-On-Four, we insert just four specially placed posts into each arch, and then attach a denture in the same visit. You leave with a complete and beautiful smile! If you have any questions, give us a call today!
Do You Have Questions About Missing Teeth?
Our team wants to help you smile with confidence with a fixed prosthetic. To learn more about treating your advanced tooth loss, then schedule a consultation by calling Santa Rosa and Rohnert Park Oral Surgery in Santa Rosa, CA, today at 707-545-4625.