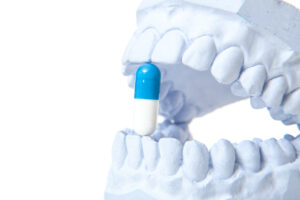 When you have tooth loss, this could eventually lead to problems eating or speaking. You could also lose jawbone structure too, which worsens tooth loss and leads to an aged appearance. But by placing dental implants, we can prevent these complications, and we can ensure this can be done with comfort. In today's blog, your Santa Rosa and Rohnert Park, CA, oral surgeons talk about our sedation options.
The Process of Placing Dental Implants
Dental implants don't need crowns, clasps, or suction to stay in place. Instead, a biocompatible titanium post, which looks similar to a small screw, is inserted into the jawbone. The body recognizes this as natural root structure, which allows it to bond with the jaw and prevent the complications of tooth loss, keeping your jaw intact and allowing your new tooth to last for decades to come. We then attach an abutment and restoration in the form of a crown to complete the new tooth. Multiple ones could also be placed to secure a bridge or even a full set of dentures. This means oral surgery is necessary to secure these lifelike teeth, and we want to make this process a comfortable one, even if you have special needs or dental anxiety! Which is why we may recommend dental sedation.
Dental Sedation
We have three different options to choose from, and the one we select will be based on your weight, age, dental and medical history, and your anxiety levels. The most common option is nitrous oxide, or laughing gas. This is mild and safe for all ages, and is administered through a mask over the nose. The gaps help you enter a calm state instantly. The effects also wear off instantly, many people can drive themselves home!
Oral sedation is a deeper form of calm, and is administered through a pill or liquid taken before the procedure. You may need to avoid food and drink for a few hours prior to the procedure, and the effects take time to wear off, so you may need a friend or family member to bring you home afterward.
The deepest form of calm is administered intravenously. IV sedation is often prescribed for oral surgeries, such as dental implant placement. And the effects are almost instantaneous. A trained anesthesiologist will be on hand to monitor you throughout the process. If you have any questions, please feel free to contact our team today!
Do You Have Questions About Keeping You Comfortable?
Our team is here to make sure you receive tooth replacement in a comfortable manner using dental sedation. To learn more about ensuring your comfort during treatment, then schedule a consultation by calling Santa Rosa and Rohnert Park Oral Surgery in Santa Rosa, CA, today at 707-545-4625.