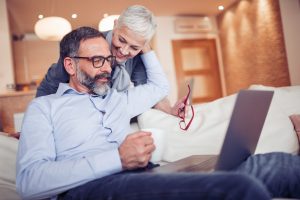 The changes to your smile that follow tooth loss could mean placing dental implants becomes complicated without first undergoing procedures such as ridge augmentation or sinus lifts. However, your Santa Rosa and Rohnert Park, CA, oral surgeons could still secure a full smile, often using Trefoil™ to do so with only three dental implants per arch!
The Impact of Your Tooth Loss
Obviously, losing natural teeth, especially a majority of them or all of them, complicates how you eat and speak. But did you now the jawbone could start to break down? The body will stop sending doses of calcium and phosphorus to the bone tissue around the missing roots. When this happens, the bone tissue loses mass and density. As the jawbone breaks down, this causes an aged appearance in many people.
The Complications for Implant Placement
The loss of mass and density in your jaw also complicates dental implant placement. After all, now there isn't enough sturdy bone tissue to support the implant, which could cause your new tooth root to fail. For many, the smile will need to be rebuilt. Basically, we use tissue from the back of the jaw or hip, or a synthetic option, to rebuild portions of the jaw. This leaves your jaw ready to receive dental implants. Once in place, the body accepts them as natural roots and the flow of nutrients resumes, preserving your smile and allowing your new roots to last for decades, maybe even a lifetime.
The Trefoil™ System
We know that for some, undergoing oral surgical procedures to rebuild the smile before implant placement could strain their budgets. For a more affordable route, we could place Trefoil® Full-Arch Restorations. Essentially, we insert only three specially placed dental implants. Made from strong and resilient titanium, they can support a full set of porcelain dentures. At the same time, they need less tissue to stay in place, while still stimulating the growth of bone tissue and preventing an aged appearance or prosthetic failure. You enjoy a complete smile once again, even if you've lost jawbone tissue! If you have any questions about how we address missing teeth and support a new smile, then contact our team today. We want to help you smile with confidence, and enjoy optimal oral health.
Would You Like a Full Smile Again?
Our team is ready to help people with tooth loss obtain a complete smile once again. Form Trefoil™ to All-On-Four®, we have options to help those with weakened smiles enjoy the benefits of implant-supported dentures. To learn more about once again enjoying a complete smile again, then schedule a consultation by calling Santa Rosa and Rohnert Park Oral Surgery in Santa Rosa, CA, today at 707-545-4625.