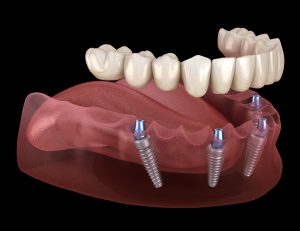 When you lose all of your teeth, this could mean serious troubles for your oral health, and your overall health too. To provide a complete smile again, even if you've lost jawbone tissue, we could secure a full arch restoration with only four dental implants. In today's blog, your Santa Rosa, CA, oral surgeons talk about full arch restoration.
The Dangers of Tooth Loss
When you lose the majority of your teeth, this could upset bite balance and the strain could eventually mean painful disorders like TMD and bruxism (teeth grinding). The lack of natural teeth also limits what you can eat, forcing you to rely on soft foods and depriving you of essential nutrients, not to mention your favorite dishes. For others, trouble speaking is common, which hinders social interactions and quality of life. Not to mention the gradual degradation and breakdown of jawbone tissue, which means an older appearance. However, to prevent these complications, we could replace your lost smile!
The Full Arch Restoration Process
Full arch restoration means we replace every tooth on each arch, so you have a full smile again. We start by extracting the few remaining teeth. The prosthetic will then be designed based on detailed digital images we gather with digital x-rays and iCat imaging technology. We then craft a full set of durable and lifelike teeth, all set in a base that looks like gum tissue. The process restores your ability to speak clearly and eat your favorite foods. Using dental implants also stimulates then growth of jawbone tissue, preventing the degradation that could lead to a prematurely aged appearance.
The Benefits of All-On-Four®
When people lose jawbone tissue, this could mean traditional implant dentures, which need between six and eight per arch, could be impossible to place as there isn't enough jawbone tissue to support them. To work around this, and prevent the need for jawbone grafting and sinus lifts to shore up your smile, we could secure them with just four specially placed implants per arch. The new roots then support the weight of your new smile, and help ensure the ability for your smile to last for decades to come. This option is often more affordable as well, and the placement less extensive.
If you have any questions about rebuilding your smile with implant dentistry, the please contact our team today to learn more. A new smile is well within your grasp, so talk to our team today.
Do You Have Questions About Restoring Your Smile?
We have a conservative and effective means of addressing total tooth loss. To learn more about the process of rebuilding your smile once again, then schedule a consultation by calling Santa Rosa and Rohnert Park Oral Surgery in Santa Rosa, CA, today at 707-545-4625.