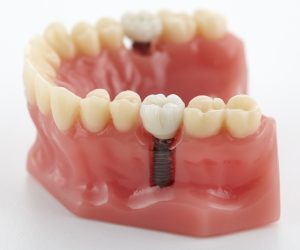 When you have lost teeth, we could replace them with a lifelike, durable, and advanced dental implant. Whether you have one missing tooth, or all of them, dental implants are a great choice. In today's blog, your Santa Rosa and Rohnert Park, CA, oral surgeons will explain how we plan and implement this process with digital technology.
Planning Your Treatment
First, we want to take a look at the present state of your smile, to better understand the cause of your tooth loss, and the current state of your jawbone. To do this, we want to look below the surfaces of your smile at your roots and oral structures. With can do so with digital x-ray and panoramic digital x-rays. These systems provide incredibly detailed images instantly, you don't have to wait for them to be developed in harsh chemicals. We can walk you through the process too. The system also uses 90% less radiation than traditional alternatives too. To create a panoramic view, we combine several images from multiple angles, giving us a clear picture of your smile. 3D cone beam scans will be taken too, which help us identify the presence of major nerve tissues and blood vessels, as well as sinus cavities too. This makes planning the process with greater accuracy and precision possible!
Guiding Placement
Next, we will guide the dental implants into place. Our team creates a detailed surgical guide, which helps us select the optimal place to insert the implant posts. Since they act as new roots, we want to make sure they can best support your dental implants and stimulate the growth of jawbone tissue. We guide them in place, and through osseointegration they bond with the bone tissue, ready to support your new smile.
Crafting Restorations and Prosthetics
We then complete the process by attaching a crown for individual options, or securing a bridge or even a full denture for more severe cases. Your new teeth will look and function like natural ones, and have the potential to stay in place for decades to come! To make the process comfortably, we can also offer dental sedation. If you have any questions about replacing missing teeth, or about the advanced digital technology we employ as part of the process, then please contact our team today to learn more.
Do You Have a Lost Tooth?
We know how to treat tooth loss with precision and accuracy using a variety of digital technologies. After all, we want you to enjoy a smile that functions like a natural one, and appears lifelike too. To learn more about treating missing teeth, then schedule a consultation by calling Santa Rosa and Rohnert Park Oral Surgery in Santa Rosa, CA, today at 707-545-4625.