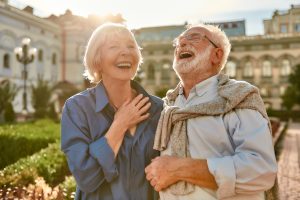 When you lose most of your teeth, or all of them, this could cause trouble eating and speaking. To address the lost teeth and restore your ability to smile with confidence, you may need a full arch restoration. In today's blog, your Santa Rosa and Rohnert Park, CA, oral surgeons will explain how we rebuild lost jawbone structure and secure a fixed denture.
The Factors Behind Complete Tooth Loss
How do we suffer the loss of most of our teeth? You could lose a tooth to poor oral hygiene, which causes tooth decay and infection. A serious injury could cause tooth loss too. However, the most common cause is periodontitis, the advanced stage of periodontal disease that causes adult tooth loss. Once you lose teeth, the body stops sending doses of calcium and phosphorus to the jawbone. Without these nutrients, the bone tissue itself could break down, causing an aged appearance and leading to further tooth loss. Soon, you have lost most of your teeth and could experience trouble eating or even speaking clearly.
Grafting and Lifts
At this stage, you may need more than a prosthetic. We may need to rebuild your smile and address the lost mass and density in your jawbone. With ridge augmentation and sinus lifts, we rebuild these broken-down portions by grafting bone tissue or lifting the sinus floor. There is then enough tissue to support multiple dental implant posts. After securing these posts, we attach a complete denture.
Treatment with Full Arch Restoration
We also have options like All-On-Four, which support a full set of dentures with only four implant posts, making this great for people who have lost jawbone structure. In fact, this could support dentures without the need for jawbone grafting or sinus lifts. For many, we could even attach a prosthetic in the same visit as the implant placement, so you leave with a full smile again. The process is also more affordable too!
Remember, a full arch restoration means you have a complete smile again, so you eat and speak without difficulty, smile with confidence, and preserve your youthful features too. If you have any questions about how we address your missing teeth with implant dentistry, then contact our team today.
Do You Have Questions About Tooth Replacement?
We want to help you enjoy a complete smile again, even if you've lost all of your natural teeth. To learn more about full arch restoration and dental implant placement, then schedule a consultation by calling Santa Rosa and Rohnert Park Oral Surgery in Santa Rosa, CA, today at 707-545-4625. We know how to plan and place dental implants using advanced technology, creating a new smile with precision and accuracy.