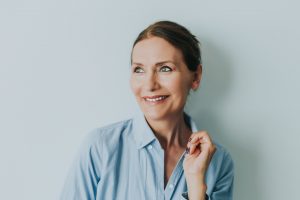 We've talked about how we support a full set of dentures on only four dental implant posts, but did you know a full set could be supported with just three? The Trefoil™ system is a great choice for people who have lost mass and density in their jawbone, and don't want to undergo bone grafting before receiving a new smile. In today's blog, your Santa Rosa and Rohnert Park, CA, oral surgeons talk about the Trefoil™ system.
The Value of Implant Dentures
Traditional removable dentures are an effective way to replace missing teeth, but they have limitations. For example, your prosthetic could last about five years before requiring replacement, as the jaw ridge will change shape. They also need to be taken out for cleaning or soaking, and could shift or slip when you eat or speak. However, by spurring them with dental implants we have a fixed version that never slips, never needs to be removed, and could last for decades to come in many cases!
What If I've Lost Bone Structure?
We could lose several of our teeth due to infection, tooth decay, or injury. The most common cause is periodontitis, the advanced stage of gum disease. When you lose teeth, the body responds by stopping the flow of calcium and phosphorus to the jawbone. Without these nutrients, the bone tissue loses mass and density, leading to additional tooth loss and an aged appearance. As this breakdown worsens, this could mean there isn't enough structure in place to support multiple dental implants. However, the Trefoil™ system could be perfect for smiles suffering the complications of advanced tooth loss.
The Trefoil™ System
This option uses only three specially placed dental implants per arch. The titanium implant post will be connected with a load-bearing bar to let them support a set of custom-made porcelain dentures. You have strong and durable teeth, which we color-match to look natural. The implant helps stimulate the growth of jawbone tissue, preventing the loss of mass and density. This helps protect your facial structure, and ensures your new smile is here to stay. We often place the new posts and secure the prosthetic in the same visit, so you leave with a new smile! If you have any questions about this system, or if you would like a consultation to see if this is the right choice for your missing teeth, then please contact our team today to learn more.
Do You Have Questions About Implant Prosthetics?
Restoring the function, health, and beauty of your smile is possible, and possibly even in one visit. To learn more about supporting a complete smile again, then schedule a consultation by calling Santa Rosa and Rohnert Park Oral Surgery in Santa Rosa, CA, today at 707-545-4625.