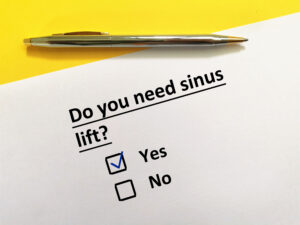 When you lose teeth, this could mean the jawbone itself begins to lose mass and density, a complication that causes an aged appearance and limits the potential for implant placement. However, with oral surgery we can rebuild the weakened portions of the jaw! In today's blog, your Santa Rosa and Rohnert Park, CA, oral surgeons talk about grafting and sinus lifts.
The Loss of Density Following Missing Teeth
The body regularly sends doses of calcium and phosphates to the jawbone around the tooth roots, ensuring it remains strong and able to support the teeth. But once we lose teeth, the body will instead suspend or divert the flow of nutrients, so the bone tissue around the missing root is starved and begins to gradually break down. Over time, this loss of mass and density in the jawbone cause additional tooth loss. This also weakens the jawbone and leaves it unable to support dental implants. To rebuild these areas and prevent a prematurely aged appearance, we could offer grafting or sinus lifts.
Planning Your Surgery
First, we will take detailed digital x-rays and intraoral camera images to plan the procedure with detail. When time comes for treatment, our team will administer local anesthesia to the area receiving treatment, and then offer one of three dental sedation options to help you enter a calm and relaxed state. Our team has experience with sedation in hospital settings, and will have trained experts on hand for the procedure to monitor you. We want to make sure your procedure is a comfortable one, and helps you on your journey to a full smile again.
Ridge Augmentation and Sinus Lifts
The grafting procedure, also known as ridge augmentation, is used to rebuild the weakened portions of the lower jaw. We will essentially apply new tissue to the bone, usually taken from the jawbone or possibly the hip. We can also use synthetic sources or donor ones too. This bonds with the bone structure and fortifies it, so you now have tissue to support a new tooth. For the upper arch, we can use a sinus lift to gently lift the membranous floor of the sinus to uncover new bone tissue to support one or more dental implants. When your smile heals, we will plan and guide the placement of dental implants. Since the body accepts them as natural roots, this ensures the flow of key nutrients to the smile to prevent further breakdowns and allow your new teeth to last for decades to come!
Does Your Smile Need Treatment?
Our team is eager to help you obtain a full and beautiful smile again. To learn more about strengthening smiles and preparing them for dental implants, then schedule a consultation by calling Santa Rosa and Rohnert Park Oral Surgery in Santa Rosa, CA, today at 707-545-4625.